When you click on the compress image icon a slider will pop up. Slide this down to about 25% with JPG selected. The photo should look ok, if too blurry then increase to 30.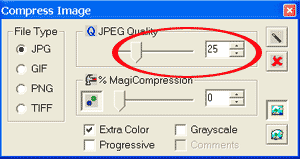 Once you have done this check to see the image sizes

Select View - then select image information or use "Ctrl + I"
Look to the Optimised image (right side) and all being well you should have
Dimension below 500 x 500
File size less than 35,000
Save this image (ctrl S)
Ok now you can upload the photo - if you have already placed an advert then go to "My Account" and then click on "My Ads"
The at the bottom of the advert where it says to "Upload Images" click on "Browse" then locate your first image. You can add a brief description. Do the same for the next photo.
Then click on submit ... your photo should be there.